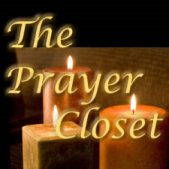 Like the prayer closet where you go in secret to pray and spend time alone with God, this section is a resource for those quiet, hidden times. We'll add resources that help you develop your prayer life and help you to be a better intercessor. As soldiers drill and athletes practice, so must prayer warriors hone their skills both on and off the battlefield of prayer.
A rather inclusive resource site on prayer.
from S.D. Gordon's Quiet Talks on Prayer
Various images with Christian prayer quotes – Google search
The PrayerForce is a ministry of laity and clergy throughout the North Georgia Annual Conference of the United Methodist Church.
Some interesting quotes on Christian prayer.
Once the Holy Spirit took possession of him in 1906, Rees Howells, a Welsh miner, was led deeply into a ministry of intercession for many situations including healing, conversions and to challenge death at home and abroad on the mission field. The "biography",

Rees Howells, Intercessor

by Norman Grubb provides a look into this man called out by God.
Prayers that are found in the Word.
Tips and Scripture references on Fasting.
The Upper Room Prayer Wall is a place for people to connect — with each other and with God. Each day, hundreds of prayer wall visitors share their needs, praises, and concerns, and they respond to prayer requests posted by others.
One way to answer this is to look at what the early church prayed for. By John Piper.
A prayer ministry devoted to the 10/40 Window.