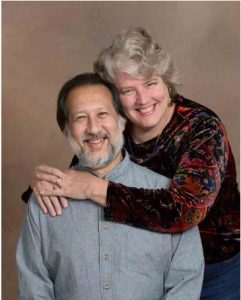 We are Steve and Kathy Pierce. We are prayer warriors,  ministers, and servants. We live and serve currently in the North Georgia area but we believe God asks us to serve Him through all people everywhere.
Steve has served as pastor, Youth and Young Adult Leader, Bible Study Leader, teacher, Stephen Minister, and intercessor. Steve has a heart for the nations and has served on and led trips since 1984. God has gifted him in computer and web design skills, teaching, exhorting, compassion, administration, and intercession. God is now allowing him to use his passion and skills to begin a role with Perspectives as an Area Team Leader and Help Desk Support Analyst.
As the oldest child of two pastors, Kathy has been involved in Church and Kingdom activities most of her life. Her giftings from the Lord include crafts and fiber arts, cooking, singing, teaching, intercession, compassion, exhortation, and the prophetic. As one might expect, Kathy's experience is also quite varied from music, drama, dance and sewing to serving on various boards, as Youth and Young Adult Leader, Stephen Minister, Bible Study Leader, Healing Rooms Intercessor, and Prayer Team member to name a few.
We have served in the US, Central and South America, and the Middle East. We will go and serve where the Lord leads. Contact us if we can work with you or your church body. We would love to come teach, share our experiences, and lift up others with the good news of Jesus.