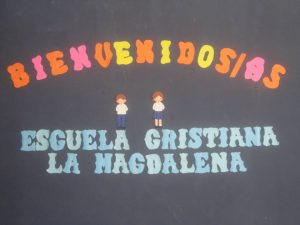 Since 2006, teams from Dahlonega UMC and other nearby churches have gone to La Magdalena, El Salvador to help build a church and a Christian school. This has been the goal and dream of Pastor Mauricio Barrientos and others. On January 20, 2014, the first real fruits of that dream were seen: three classes started with 44 kindergarten students!
There is more to be done – more students, more supplies, more work, more prayers! But God had worked through His people to create a light in the darkness and all we can do is stand and be amazed.
It is amazing to see what has been accomplished in eight years! What seemed almost impossible is now a reality. God hears the prayers of His people and we see the answer to so many prayers. Kathy and I have only been involved for the last two years but we appreciated the sacrifices and efforts of so many that allow us to celebrate this blessing with our brothers and sisters in El Salvador.
Please continue to pray for the students, their parents, and families. Pray for the Canton of La Magdalena; that it be blessed by this new venture. and definitely, please pray for the teachers, assistants, director and assistant director of the La Magdalena Christian School :
Director: Francisco Lopez
Assistant Director: Ruth Lopez
Teachers: Karla Cerna Guerrero and her assistant Keysi Zúñiga,
Sonia Raquel Rivas Chacon and her assistant Emilda Aquinas;
Norma Patricia Saved and her assistant Marisol Aura Calderon
Be well,
Steve