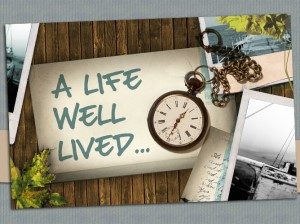 Jesus said, "I have come that they may have life, and have it to the full." – John 10:10
My grandmother – Grandmama, Mom's mother – just passed away two weeks ago. She would have been 96 in July (97 by Chinese reckoning). We just had a family reunion last weekend with family on Dad's side – this gathering was started as a birthday gathering of sorts for my Granny, his mother, who passed away a little over 17 years ago.
"A life well lived" describes both of their lives, though their worlds were very different – you can really say they grew up in different worlds. Both mothered children – Grandmama had five and Granny nine; both saw the passing of their husbands and both were excellent cooks. But so much more of their lives were very different. Granny spent all of her life in the Southern US. Grandmama traveled as the wife of a diplomat. Granny spoke English, Grandmama spoke Chinese.
I am very much reminded that living life well is not determined by your circumstances but by your attitude. I believe there is a source of strength that comes from God that allows us to live life well – in spite of where we are and what happens to us. We CAN live life well and live it to the full.
I miss both of my grandmothers – in different ways and for different reasons. But I know that looking at the lives they lived and drawing from the same Source of strength, I can keep their memory, their legacy alive. And I pray that someone will see that I, too, have lived life well and lived it to the fullest.
Be well,
Steve