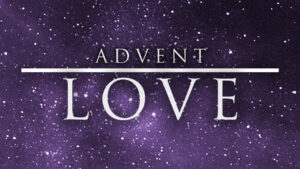 Give thanks to the Lord, for he is good,
for his steadfast love endures forever.
Give thanks to the God of gods,
for his steadfast love endures forever.
Give thanks to the Lord of lords,
for his steadfast love endures forever;
— Psalm 136:1-3, ESV
He brought me to the banqueting house,and his banner over me was love. — Song of Solomon 2:4, ESV
But the fruit of the Spirit is LOVE, joy, peace, patience, kindness, goodness, faithfulness, gentleness, self-control; against such things there is no law.
— Galatians 5:22-23, ESV
Anyone who does not love does not know God, because God is love. — 1 John 4:8
There is no fear in love, but perfect love casts out fear.
— 1 John 4:18a, ESV
Therefore, since we have been justified by faith, we have peace with God through our Lord Jesus Christ.
Through him we have also obtained access by faith into this grace in which we stand, and we rejoice in
hope of the glory of God. Not only that, but we rejoice in our sufferings, knowing that suffering
produces endurance, and endurance produces character, and character produces hope, and hope does not
put us to shame, because God's LOVE has been poured into our hearts through the Holy Spirit who has
been given to us.
— Romans 5:1-5, ESV
What is love? I love my wife. I love my family and friends. I love Mexican food. I love Jesus. Same word, lot of difference in what it means (and yes, I love Jesus and Kathy way more than Mexican food!) Unfortunately, English doesn't have several different words that give us the nuances we need.
John gives a good definition: God is Love. There is the Christmas song, "Love Came Down at Christmas". Jesus, the embodiment – the incarnation – of God's love, came to us; we don't find Him, He finds us! His love for us is steadfast and enduring and He prepares a table for us and calls us to safety under His banner. The first fruit of the Spirit is love and indeed, John also tells us that if we do not love, we do not know God – thus we don't know what Love is!
Love and fear do not mix. Perfect love casts out fear – ALL fear. A few years ago, I had a vision of seeing this verse "enacted": I have put my fear on a pedestal; it controled me. But then Jesus came along with a baseball bat marked "Perfect Love" and He knocked fear "out of the park" – He also destroyed that pedestal and stood in its place.
So what are you afraid of? Do you have fear on a pedestal? Fear not delta or omicron, come under the banner of the Alpha and Omega. Fear nothing for His steadfast love endures forever. Let Love be poured into your heart to overflowing; bear much of this Spirit fruit. Share Love this season.
Be well,
Steve