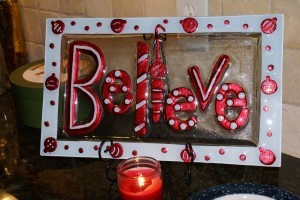 Believe… it has become a popular slogan but what do we mean by that? Believe in Santa? Believe in ourselves? Both of these have their merit but I believe (there's that word again) that to really get the full measure of the word we have to place it into the context of believing in Jesus (remember John 3:16?)
Believe that God came to earth as a child – so unreal that it has to be true. Believe that He loves you. Believe that He listens and cares. Believe that Christmas holds all the wonder that God has placed into this time and also believe that you are worthy of it – not because you have been good, but simply because God is madly in love with you.
Father, we believe, help our unbelief. May the lights of Christmas burn through the dark nights of our souls. May we truly celebrate Jesus' coming as a child as we look toward His return. Hear our prayers, hasten to guide and save us. May Your peace reign in our hearts this season and all year long! In the Name of Jesus, the Reason for All Seasons, Amen!

Be well,
Steve