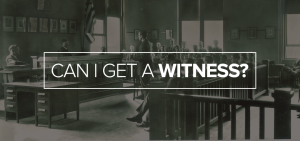 And this gospel of the kingdom will be preached in the whole world as a testimony to all nations, and then the end will come. — Matthew 24:14
They triumphed over him by the blood of the Lamb and by the word of their testimony; — Revelation 12:11
A recent comic strip that I read had a preacher telling his congregation that we are called to be Jesus' witnesses. He then used the line above, "Can I get a witness?". Dead silence greeted him. He then mused that the congregation must all be in the witness protection program.
I preached this past Sunday on the two Scriptures above. We use the words, "testimony" and "witness" interchangeably.  It is our testimony or our witness that along with the saving blood of the Lamb that allows us to triumph or overcome as some versions state. We need a  witness! Jesus said the the gospel, the good news with be preached to the WHOLE world as a testimony to ALL nations. There are many peoples who have not heard this good news yet. Jesus will not return until this is accomplished; the Great Commission must be completed!
I believe the best way to be a part of this is to share our testimony. But first, you need a testimony. If we are truly believers in Jesus Christ, we HAVE a testimony – if we don't we need to check our pulse! All of us should be able to find something that Jesus has done in our lives – and it should be something daily, not just something 20 years ago or on the day of our salvation.
We don't need to stand on a street corner, scaring people by shouting at them and threatening them with the Bible. We don't have to go to far-away lands to reach the lost. We just need to share our story – our witness – with those we meet day-to-day. And it doesn't always have to be in words. Our lives should show a difference from those who have not yet found what we have found in Jesus. Others should want to know what it is that makes us different and want it for their lives.
So there are two questions:WHAT is your witness? HOW is your testimony moving us closer to the day that Jesus returns?
Be well,
Steve