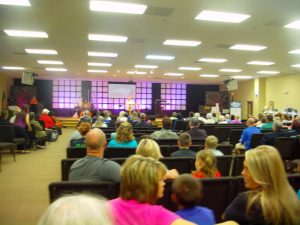 We recently attended the annual conference of The Missionary Church International, the spiritual covering for our ministry here at I Stand in the Gap.  It was an awesome conference, full of anointed messages delivered by a variety of speakers, and incredible worship from a couple of different worship leaders.  It is impossible to convey the power of a conference of this nature in something as brief as a blog post, but I wanted to write about a couple of things that really struck me from the messages that were given.
There were a few side trips, but what I received as the the dominant progression of the conference, illustrating the theme of Walk it Out, was from moving from dying to passion to power.
Although it is certainly not a new teaching, the message that we must die to ourselves is one that bears repeating.  Even when we have, to the best of our ability, nailed our selves to the cross with Jesus, there are always new areas that are revealed to us that have yet to be crucified.  If there is anything left of us, we can't be fully and completely filled by the Holy Spirit, because what's left of us keeps some of Him out.  Coming to the realization of the truth of that last sentence was a new perspective on this point for me.  Why, I don't know, but I had never thought of it that way before.
I have been struggling with feeling an absence of passion in/for this work that I know we are called to.  It has been an exercise of will rather than a true passion, and I have felt the lack greatly, but haven't had a clue how to remedy it.  It was really a confirmation of this issue for me when one of the speakers spoke about passion.  He said that passion is the fire and urgency that vision needs to remain alive and active.  I love that!  It was a perfectly concise statement of the importance of passion in the work of the gospel.  It is a puzzle to me why I haven't had the passion, although I am sure of the calling.  I know I desperately need a true passion to keep from burning out in this work, and so I am praying for the Lord to give me what I need in this area.
A couple of the speakers spoke on the power the presence and glory of the Lord bring to bear when in ministry, and how we can be a part of manifesting that power in our ministries, through the Holy Spirit.  One illustration I loved made reference to "the snake line."  In nature, there is a point of elevation above which snakes just simply aren't found.  The parallel of the enemy as the snake/serpent was perfect as one speaker shared that we raise the atmosphere through our praise, bringing the presence of the Holy Spirit to such a high level – "He inhabits the praises of His people" – that Satan simply cannot bear to remain!  Our praise and worship and passion for God brings God's glory and Kingdom into the here and now.  We are spiritual warriors and it is our right and responsibility to insist upon and enforce God's will and promises when and where the enemy has stolen them.  We are enforcers of His will, through the Holy Spirit within us.
These were some of the high points for me.  Hopefully my reflections have resonated in some way for you as well.  May God be with you and bless you in your ministry, whatever that may be.  Whether or not you are "officially" involved in a formal ministry, the Word tells us that, as believers, we are all ministers of the gospel.  May your ministry be richly blessed with the power and glory of the Lord of Hosts to transform and save lives for His kingdom.
In His Service,
Kathy