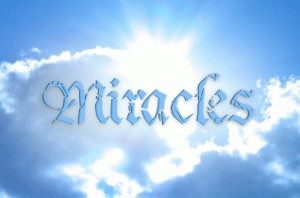 Do we really expect miracles when we pray?  Or maybe a better way to phrase what I am getting at is, why do we so often hesitate to ask for miracles?
Perhaps you don't struggle with this, but I know I do.  I absolutely believe in a God that not only can but does still work miracles, even in today's skeptical, and even largely atheistic, society.  But I find myself hesitating to ask for something that would be termed a miracle, by most people – supernatural healing, instant provision, a dramatic sign indicating the choice He wants me to make in a given situation, instant deliverance from addictions or demonic oppression (another sort of healing), things like that.  Periodically I find myself asking why I (all too frequently) don't ask for such things, or expect that type of answer, if I believe in a miracle working God.  Is my faith so weak?
I find the answer to that question is both yes and no.  My faith in God is absolute – He can and does and will work miracles.  However, all too often, my faith in myself or my calling is far less secure.  Am I confident that what I am asking is His will?  Even if I am, for example when asking for healing (God's nature is to heal, the scriptures make that abundantly clear), I find myself, on some level, asking will God listen to MY prayer?  Am I "good enough" to ask for such a dramatic or powerful action from Him, or for him to use ME in such a powerful way?  There's that self-doubt I have written about before showing its ugly head again.
Another facet is, am I really supposed to be doing this?  Am I praying out of my own strength and desire for whatever it is, or am I praying because the Holy Spirit has laid it on me to pray?  Praying out of our own desire isn't necessarily a bad thing.  If we are sure that what we are asking is His will, I believe we can still expect Him to respond favorably.  If we are praying only because we want something and haven't made any effort to discern His will in the matter, not so much.  If the Holy Spirit has laid it on us to pray in a particular instance, we can be certain He will fulfill whatever it is He has asked us to seek Him for.
So why is it so hard to ask for miracles?  For myself, most often it comes back to that specter of self-doubt.  In the example of healing, I know that it has been prophesied over both myself and my husband that we will be used of the Lord for healing.  So why do I still hesitate more often than I am bold enough to ask for supernatural healing?  I really wish I knew how to conquer/release that burden of self-doubt once and for all, but unfortunately I don't.  I have sought the Lord over that issue more often than I care to count.  Each time I do, it seems like things are better for a while, then I "forget", or whatever, and it crops back up to hobble me once again.  May you be more successful, if it is also an issue for you!
Father, forgive me for doubting the callings and giftings You have placed on my life.  Forgive me for the reverse conceit of my attitude that I'm not worthy for You to use to bring healings and other miracles into being through me.  You have chosen me for this work, and therefore I AM adequate to the task.  It isn't me anyway, but Your Spirit in me doing the work, so help me to step aside and let You do what You have purposed to do through me from the beginning of time.  In Jesus' name, Amen.
Grace and peace be with you,
Kathy