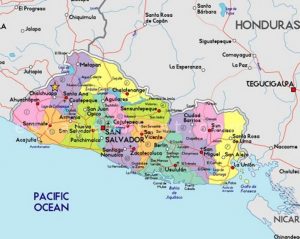 Well, it's been a month since we returned from El Salvador but I'm doing better than last year in getting this post written. We've been trying to get things settled and photos sorted and I think that's all done now.
The team this year was small – Lynn Pfeiffer, Kathy, and myself – but we believe it was what God wanted for this trip. Since we didn't have any construction concerns, we knew this trip was going to be all about ministry and planning. We spent the Monday after we arrived talking to Pastors Mauricio, Jaime and Francisco about where we were and what was needed to get the school open. We also talked about where they wanted to go from here.
We visited 26 families and prayed for them, we worshiped at three different Oasis churches – Iglesia Cristiana Oasis de Gracia and Iglesia Cristiana Oasis de Vida in Santa Ana – Oasis de Vida is only a year old – and Iglesia Cristiana Oasis de Luz in La Magdalena. We were honored to attend David and Emilda's wedding at Oasis de Luz and more honored to participate in the prayer for the couple; El Salvadoran weddings are something else – everyone in the community is invited and everyone is fed!.
We managed to host a "festival" for La Magdalena – with bounce houses, face-painting, games, and food plus we took family photos and printed them – that was well attended and though tiring and almost too much for us, it was a big success. More and more people are aware of what God is doing in and through the church there – we saw new faces at almost every service and Pastor Mauricio told of the growth in the Santa Ana churches.
We managed to spend three nights in La Magdalena. Our meals were prepared by various families while we were there. Their hospitality knows no bounds – and the food is great (I'm craving some tortillas and pupusas)! We did manage a bit of "tourist" time in Ataco but there is always never enough time to do everything we would like to do (or they would like to have, to show us their "home"). I am feeling much more the need to learn Spanish to better communicate with the people – we picked up more but not enough.
Kathy enjoyed the trip – it was good for her ego; everyone kept telling me (and her) how beautiful my "esposa" was 😉 The trip for me was just as good as last year's – different but still very uplifting. I enjoyed learning more names and getting all the hugs from the children – you can tell from the pictures how happy I was!
Final work on the building that is needed to pass inspection for the school to start is underway. I will be keeping tabs on this since the window to apply for the school to open is between now and August, so all the preparations must be done in time to fix any problems. Then, the necessary furniture and equipment – tables, desks, chairs, etc. – will need to be purchased. The plans are to open with three kindergarten classes – 4, 5, and 6 year olds – of 30 students each. This means 90 students. They are planning on an initial staff of three teachers, three assistants, one secretary, one maintenance person, and one principal. Money is available to cover all of the construction needs (hopefully) but equipment and salary expenses will need to be raised. They (and we) are looking to find sponsors for these expenses. We will also be praying for sponsors for the students also but that will be later, once we have the official "blessing" to open the school.
What we need first is lots of prayer! I will have posted on the project website (no longer available) a list of the major prayers needs for the school and for the Oasis churches. We will work to keep that up-to-date and we will also post prayer requests on the Facebook El Salvador Mission page. I ask that you also pray for wisdom and discernment for all of us as we continue this work. If you hear something from God in your prayer time, please share it with us.
Next we need some major fundraising. Pray that God opens the door to the financial and other resources that are needed to complete the work!
Again, I ask you to pray about your part in this work. You can pray about going to El Salvador. The next trip is tentatively planned for Feb 22 – Mar 3, 2014. Pray about supporting financially, pray about supporting with your time and efforts here. Pray about how you can share this with others. All of these are equally important and very much needed! Ask us about ways you can plug in and help.
We will be sharing some about this trip and how people can help on April 10 at Dahlonega UMC. We will share briefly during the service at 5:45pm and will have photos showing on the screen and an information table in the fellowship hall during the dinner at 6:30pm (dinner is $5). If you are in the area and available, please come and support this!
Dios le bendiga! / God bless all of you!
Be well,
Steve