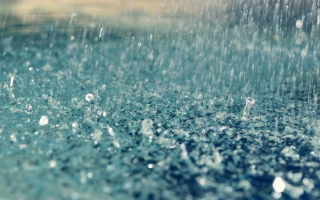 You may recognize the phrase I used in the title of this blog as a line from a popular contemporary Christian song.  We've been having a lot of natural rain here in North Georgia lately, which led me to this theme.  As I'm sure you are aware however, the lyrics of the song are actually about a different kind of rain.  We can look at rain in the spiritual sense in a couple of different ways.  One that we generally can agree is one we like and earnestly desire is the rain of the Holy Spirit moving in our lives and in worship to draw us closer to God and empower us for His service.  One that is, understandably, often less desired is what the song refers to – the rain of troubles and struggles that we can often feel ourselves drowning under.  The full line is, "If that's what it takes to praise you, Jesus bring the rain!"
Although it is certainly uncomfortable, even sometimes down right excruciatingly painful, to go through the struggles and trials that we all experience in our lives, often those struggles and trials are the very things that can and often do bring praises to our Lord.  It isn't easy, but, by His grace working in us we can praise Him as He walks through them with us, praise Him for the strength and guidance He brings in the midst of them, and praise Him for the freedom and newness of life He gives us as we come out of them.  Others are often moved to praise Him, seeing the grace which we exhibit – thanks to His presence and provision – as we go through them.  Sometimes, those trials and our grace in going through them are instruments that bring unbelievers into relationship with the Lord and giving them even more praises to joyfully lift to Him.  As hard as it is to do so – none of us likes pain and struggle – sometimes we need to pray, "Jesus bring the rain", in reference to that type of rain with equal submission and reverence as we do in the times we pray, "Jesus bring the rain", referring to the rain of the Holy Spirit for empowerment and transformation.
In my life I have had what sometimes seems like more than my fair share of troubles and struggle, both as a young person living in my parent's home and as an adult.  Sometimes, when I have heard that song I have almost been brought to tears as I submit and join in saying, as sincerely as I can, although it hurts, "If that's what it takes to praise you, Jesus bring the rain."  I can do this, only by His grace, because I know, deep in my heart, even in the midst of those painful times, the truth of Romans 8:28 (NKJ), "And we know that all things work together for good to those who love God, to those who are called according to His purpose."
I pray that you are able to say, "Jesus, bring the rain", regardless of which type of rain is coming your way.  If you are in a time of struggle right now, I pray the Lord give you His peace in the midst of your difficulty and allow you to praise Him, even in your pain. If you are in a time of great growth and an outpouring of His Spirit into your life, in the other type of spiritual rain, I rejoice with you and join you in pouring out praise to the one who is more than worthy!
Jesus, bring the rain!
Kathy