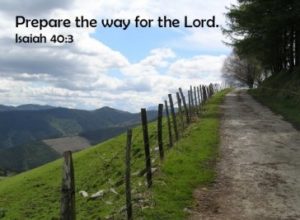 Today's Reflection is a guest post from a friend and fellow church member, Bill Finesilver – yes, a good Jewish name ;-). Bill writes a daily devotion and sends it out to a list of friends and this one just hit me [Steve]. I asked if we could share it. Bill kindly gave his permission.
---
The voice of one crying in the wilderness: "Prepare the way of the Lord; Make straight in the desert A highway for our God. — Isaiah 40:3
A lot of things happened yesterday.
Our church announced that our pastor was leaving – moving on to another church after 10 years served at our church.
I was blessed to participate in our 11 am service.
And yesterday our church gave out communion.
I was serving the juice to the congregation as they came up and knelt at the alter. I said the words "His blood shed for you" as I gave each person their cup.  I did my best to make sure I did everything right.  And when everyone was finished and I was preparing to put the juice tray away, the pastor nudged my arm and told me to follow her.
I had no idea where she wanted me to go until I noticed "her" for the first time….
She walked towards a woman seated near the back corner who was an invalid, strapped to a motorized wheel chair.
As I walked back to the altar, I was stunned.  I would have missed her for sure. In fact it never crossed my mind to look for anyone who wasn't coming up on their own.   And as a result of missing her,  I realized I have missed everything.
See, Jesus has asked us to do one thing more than any other.  Live our lives in such a way that when people meet us they feel as though they have just had an encounter with Jesus Christ.
This means we are going to have to look in a different direction than we are used to looking.
Outward instead of inward.
This means that those that can't come, must be noticed.  This means those that are leaving for somewhere else, must be encouraged for their new mission – to prepare new people to meet Jesus.
This may mean preparing wondering, unsure, minds and hearts for a new pastor, who is leaving his hometown, and travelling to a new strange home.  This means preparing a church body to be Jesus Christ to a new friend, leader and servant.
We must be careful or we will miss it every time.  Instead of preparing to be Jesus, we naturally think "How am I affected by this change? This new pastor?  This new circumstance? This unfortunate whatever?"
As I went back to the alter I had tears in my eyes.  What a fool I was! Finally coming to the realization that this is not just about me – making sure I said the right words at the right time in some service so I could go home and pat myself on the back for my job well done… This is about blood shed by my Savior and your Savior to rescue people.  This is about opening our eyes and looking outward instead of inward. Time to  take our eyes off of ourselves.  Time that we forget about our opinions of how things should or shouldn't be done, and remember that we are on God's highway not our highway.
I am the first to admit, that I am always on my mind.  In fact I am my favorite topic.
And because of this, I almost missed a soul today.  Because of my self awareness instead of my "His awareness".
Everything our Lord Jesus did was to help this world to know Him.  And to reveal to the world the incredible love and kindness of God.  He always looked outward or upward.  Always noticing things and people in ways no one else did.
Let us prepare and take the time to notice the world around us from God's eyes, and not our own.
Sometimes it will take a brother or sister in Christ to open our eyes.  I am so grateful that our minister was so aware of the needs of "His" congregation.  I can't imagine what the woman who was paralyzed would have felt had we neglected her.
You and I are on God's highway.  And our mission – To be Jesus Christ to this world.
This will require a new set of eyes, and a new heart.  We can no longer see this world as our world and our "congregation".  We must come to see the truth – this world is His world.  And every single thing we do, every way we act, should be considered and prepared with His ever loving, seeking, eyes, and His selfless heart.
Today I ask you to prepare your heart and mind so that people see Jesus Christ through your life.  Set aside your feelings and try and think of them instead.  Try not to be so self absorbed – so inwardly focused, and really take a new look at God's world and His children.