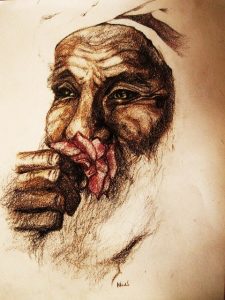 Recently, Kathy and I were in Clarkston, Georgia, described as the most diverse square mile in the US. We were there to meet up with our friend and host, Sharon. It was another chance to meet with some refugees and build relationships.
We were at Refuge Coffee, waiting on those in our group to get coffee and something to nibble on before we headed out. It was a nice day so we were standing in the sunlight, chatting with each other, when I noticed him coming across the lot. His dress  told me he was Afghan and at first I thought it was a bit odd but then I quickly remembered where I was. That is not an unusual sight in Clarkston.
I thought nothing more of him until he came around, greeting and shaking hands with everyone. When he got to me, he shook my hand, and then reached up and stroked my beard, and said, "My brother, my brother". I smiled and offered my cheek and he put his cheek to mine and I offered the other cheek to him in greeting.
He wandered off to greet others but came back again – the same thing happened, he shook my hand, stroked my beard, and said, "My brother". I offered my cheek again and this time he lightly kissed it.
A bit later, Julia, one of our group and I were chatting and my Afghan brother came up again. We got his name (sadly, I can't remember it) and found out he is from Kabul. Through some talking and hand signs, we gathered he has four children and lots of grandchildren – some of which are still in Afghanistan. He became a little teary-eyed telling Julia and I all of this – he misses those that he has not seen for awhile. He turned to me and I hugged him, silently praying over him, as he sobbed.
He then proceeded to give Julia and I a language lesson starting at the top of his head with "hair" and down to his feet. He also told us the words for sitting and going. Why? I'm not really sure but it was fun. If we had not already had plans for the day and others to visit, I would have stayed there and continued my conversation with my "brother". I hope to see him again. Abba has put him on my heart for a reason.
The picture is not of my "brother" but it captures his essence. It is a piece done by vivi-ama-rei.