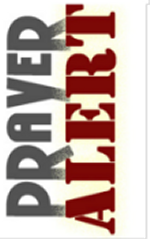 From Breaking Christian News:
(Middletown, CA) – Jeffrey Daly 4/24/14 —We have an acute spiritual problem in this nation which has infected not only our politics but our entire culture. Our once Godly nation is rapidly sliding into a moral morass because we have looked to men, not God, and have followed other idols. Only sincere, humble repentance within the Body of Christ—turning away from the ways of the world and the flesh and seeking instead God's purity and holiness—will trigger God's promise to "hear from Heaven, and forgive sin and heal their land." 2 Chronicles 7:14.
The problems are found in every person, every family, and every nation.
Repentance is neither a penance, nor a punishment, but a unique privilege from the Lord to come into His Kingdom (Matthew 4:17) and then into His Presence to grow in His Holiness (1 Peter 1:15-16) and become over-comers (Revelation 3:19-21).
Repentance is not just an individual privilege but serves to move God's Providence for a nation through a sacred solemn assembly. Following precedent in American Christian history dating back to 1774, Wednesday April 30 will mark another National Day of Repentance. Participation is simple. In prayer closets, Bible studies, or church services, Christians at the grassroots will have, like Nehemiah, the opportunity to take time that day to confess their sins, to repent humbly and sincerely, to "afflict their souls" for themselves, for their families, for their nation.
In this repentance process, those who are not just praying, but sincerely repenting will experience joy for their sins being forgiven and the immediate growth in His Righteousness. (Psalm 23:3) Instead of being lukewarm they will draw closer to Christ. (Revelation 3:14-22). Instead of a spirit of division, the Body of Christ will experience the unity of the Holy Spirit. On April 30 the Bride of Christ will have a unique opportunity to unify, awaken and purify herself for the Bridegroom's soon return.
This April 30 is especially powerful because the next day, May 1, is the National Day of Prayer. We will have a 48 hour "window" to choose to restore our Godly roots. In addition, this 48-hour window for repentance, fasting and prayer will be observed not only in the USA, but also by intercessors in another 30+ nations who have already joined the National Day of Repentance through our website: DayOfRepentance.org.