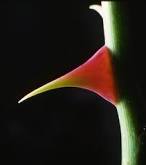 Therefore, in order to keep me from becoming conceited, I was given a thorn in my flesh, a messenger of Satan, to torment me. Three times I pleaded with the Lord to take it away from me. But he said to me, "My grace is sufficient for you, for my power is made perfect in weakness." Therefore I will boast all the more gladly about my weaknesses, so that Christ's power may rest on me. – 2 Corinthians 12: 7 – 9 (NIV)
Last month, Kathy and I were talking to a friend in ministry. They were sharing about the string of recent deaths in their family and how the phrase in verse 9 above, "My grace is sufficient", had become more real to them. They had thought before that God's grace was something they could come take a sip of and be satisfied. During their season of grief, they learned that God's grace is more the never-ending stream from which we can continuously quench our thirst. I've been thinking and looking at this – it's dovetailed into my thoughts about grace and justice and how we view and are viewed by God. I'll be sharing some of this in a teaching next week – I've shared some pieces on two occasions already. This is part one of at least two posts that will look at God's sufficient grace.
First, I believe we need to fully understand that it it GOD's grace that is sufficient. It is not something we create in ourselves – it is by HIS grace that we believe, it is by HIS grace that we are saved. The Psalmist prays "Create in me a pure heart" (Psalm 51:10). The word "create" is Hebrew means to "make from scratch, something that didn't exist previously". It is the same word used in the Genesis creation story. God's grace is created by HIM in us to cause us to believe and be saved. I believe that as with so many Biblical terms and concepts, we have softened or changed the meaning of grace – if we ever fully understood its meaning; for I believe God has meant so much more that we ever could fathom in the meaning of grace (or love, justice, mercy, faith, etc.) Looking at what the whole Bible says about God, we miss out on so much if we just make fit into our concept of a "God of grace and love". I think that's why there are so many names of God presented in the Scriptures. How do you describe the Indescribable God?
Paul refers to his "thorn in the flesh". Whether it is physical or spiritual matters little to the understanding of grace but that the thorn helps us to see more fully what grace really is what is important. Watchman Nee is quoted as saying, "No discipline, no revelation; no thorn, no grace". We will look more deeply into this in the next post but grace cannot be real grace without the presence of a thorn. Our thorn may be removed or like Paul's serve as a continual reminder of why we need GOD's grace. Sin is real and offering "unmerited favor" from God without dealing with sin (and repenting from sin) is NOT grace – at least not GOD's grace. All of our suffering and our need for grace is a result of sin. The thorn is as real as the grace that is all we need!
Lord, God of grace, thank You for YOUR grace. Thank You for the thorns that help us fully understand YOUR grace. Father, create in us a pure heart by YOUR grace. Help our unbelief by giving us YOUR grace to believe and be saved, in the Name of Jesus, YOUR Son. Amen!
Be well,
Steve