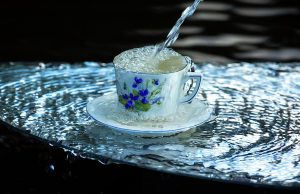 The man brought me back to the entrance to the temple, and I saw water coming out from under the threshold of the temple toward the east (for the temple faced east). The water was coming down from under the south side of the temple, south of the altar. He then brought me out through the north gate and led me around the outside to the outer gate facing east, and the water was trickling from the south side.

As the man went eastward with a measuring line in his hand, he measured off a thousand cubits and then led me through water that was ankle-deep. He measured off another thousand cubits and led me through water that was knee-deep. He measured off another thousand and led me through water that was up to the waist. He measured off another thousand, but now it was a river that I could not cross, because the water had risen and was deep enough to swim in—a river that no one could cross. He asked me, "Son of man, do you see this?"

Then he led me back to the bank of the river. When I arrived there, I saw a great number of trees on each side of the river. He said to me, "This water flows toward the eastern region and goes down into the Arabah, where it enters the Dead Sea. When it empties into the sea, the salty water there becomes fresh. Swarms of living creatures will live wherever the river flows. There will be large numbers of fish, because this water flows there and makes the salt water fresh; so where the river flows everything will live.  — Ezekiel 47:1–9 NIV
The only way to do true ministry is through the overflow. Let me explain what I mean and why I say that.
This train of thought started about three years ago and I keep coming back to it. These notes were first put together than but never fleshed out. I shared it at a Bible study we had back then, and God has brought it to mind again – in fact, I think it's my word for 2019: overflow.
Let's look at some Scripture as a background – in Genesis 2, God creates man and makes him more than just molded clay with the breath of life. The overflow of God's creativity culminates in the creation that He calls very good.
Ephesians 3:20-21: Now to him who is able to do immeasurably more than all we ask or imagine, according to his power that is at work within us, to him be glory in the church and in Christ Jesus throughout all generations, for ever and ever! Amen.
Paul shows that God operates without limits, and what He can do in and through us is so much more that we can even imagine – we can't even measure it! If that's not overflow, I don't know what is!
The Answer to Solomon's prayer (1 Kings 3:10-13), salvation of the Philippian jailer and his family (Acts 16:25-34), the healing of the woman with the blood issue (Luke 8:43-48) and others are all examples of God's overflowing grace and mercy – it is His modus operandi.
Not convinced? Here's some verses that specifically point to overflow:
Anointing
Psalm 133:2 – Aaron's anointing – the oil overflows into his beard.
Psalm 23: 5 – You anoint my head with oil, my cup overflows
Psalm 45: 7, Hebrews 1:9 – Anointed with the oil of joy
The Issachar Anointing – 1 Chronicles 12:32:  from Issachar, men who understood the times and knew what Israel should do—200 chiefs, with all their relatives under their command (the anointing was not limited – it flowed out to the whole clan!
Joy & Peace
Romans 15:13 NIV – May the God of hope fill you with all joy and peace as you trust in him, so that you may overflow with hope by the power of the Holy Spirit.
Praise
Psalm 98, Luke 19:40 "I tell you," he replied, "if they keep quiet, the stones will cry out."
Grace
Psalm 45:1-2 – My heart is stirred by a noble theme as I recite my verses for the king; my tongue is the pen of a skillful writer. You are the most excellent of men and your lips have been anointed with grace, since God has blessed you forever.
And probably the best one: But the gift is not like the trespass. For if the many died by the trespass of the one man, how much more did God's grace and the gift that came by the grace of the one man, Jesus Christ, overflow to the many! – Romans 5:15 NIV
And why does God operate in this manner? 2 Peter 1:4 NIV – Through these he has given us His very great and precious promises, so that through them you may participate in the divine nature, having escaped the corruption in the world caused by evil desires.
Our poverty, our helplessness, not our resources or our strength, make room for God's overflow of grace. It's not what we have to offer but what God puts in us.
Bring the whole tithe into the storehouse, that there may be food in my house. Test me in this," says the Lord Almighty, "and see if I will not throw open the floodgates of heaven and pour out so much blessing that there will not be room enough to store it. – Malachi 3:10
One final aspect of overflow needs to be addressed:
 For as we share abundantly in Christ's sufferings, so through Christ we share abundantly in comfort too. (2 Corinthians 1:5, ESV).  We share in the abundance of His comfort ONLY as we share in His sufferings. It is the price of answering the call of the Master. But, look, we operate in HIS STRENGTH NOT OURS!
Many speak of being filled before serving – I say we must be overflowing to serve! We need the grace and anointing to sustain us and plenty to pour out!
Overflow and serve, be well,
Steve