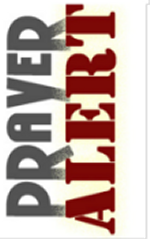 It has been learned that an appeals court in Tehran rejected the appeal of American Pastor Saeed Abedini, a U.S. citizen, and refused to reduce his 8-year prison sentence. Pastor Saeed's wife, Naghmeh, called the decision "devastating" and the ACLJ is now exploring all legal and governmental options available.
This legal decision also signals a new level of concern for Pastor Saeed's safety. By keeping the 8-year prison sentence in place, Pastor Saeed, now potentially faces additional beatings and abuse inside Evin Prison.
The decision to reject Pastor Saeed's appeal came yesterday from Branch 36 of the Tehran Court of Appeals and was handed down by a two-judge panel that refused to provide Pastor Saeed's Iranian attorney with a written copy of the decision. One of the judges who issued the decision is Judge Ahmad Zargar, who was sanctioned by the European Union for issuing long-term and death sentences for peaceful protestors.
Pastor Saeed, a U.S. citizen, was convicted of threatening the security of Iran because he chose to peacefully gather with other Christian Believers. On January 27, 2013, Judge Pir Abassi, a judge presently sanctioned by the European Union for his human rights abuses, found Pastor Saeed's Christian faith and activities tantamount to national security threat, and sentenced him to a prison sentence of eight years.
The decision rejecting the appeal of 33-year-old Pastor Saeed comes just one month before the first year anniversary of his imprisonment. There will be prayer vigils in this country and around the world on September 26th – a united effort to call attention to Pastor Saeed's plight and a very important opportunity to advocate his release. You can learn more about the September 26th prayer vigils at www.SaveSaeed.org.