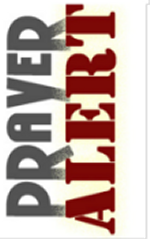 From the Presidential Prayer Team
The State Department has extended the closure of many American embassies in the Middle East by a week and has shuttered additional diplomatic missions, underscoring what U.S. officials said was the continued threat posed by al Qaeda and its affiliates.
U.S. officials said the decision to close the embassies was based on the same intelligence that led the State Department on Friday to issue a global alert on the possibility for al Qaeda attacks across the broader Mideast and possibly into Europe and the U.S.
Obama administration officials said they are particularly tracking the operations of al Qaeda in the Arabian Peninsula as the primary organization behind the threat. These officials said they've monitored communications traffic between the Yemen-based group's members indicating a major terrorist plot has become operational.
Recent prison breaks in Pakistan, Iraq, and Libya are one of several reasons the United States has dramatically heightened its security stance by issuing a worldwide travel alert and closing almost two dozen embassies and consulates on Sunday, with 19 of them remaining shut for the rest of the week.
The State Department said the substantial security steps reflect an "abundance of caution" over intelligence information that indicated final planning by al Qaeda in Yemen for possible terrorist attacks on Western targets to coincide with the end of Ramadan this week.
Among the embassies the State Department said it is closing through next Saturday are the U.S. missions in Egypt, Jordan, the United Arab Emirates, Kuwait, and Qatar. (Sources: Wall Street Journal, CNN)  
As the Lord leads, please pray:
For the safety and security of the embassies throughout the Islamic world, and for the employees and their families.
For intelligence officials as they intercept and analyze increased terrorist chatter since the prison breaks.