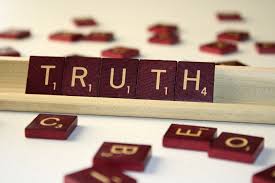 Not too long ago I was reading John Eldredge's book "Beautiful Outlaw" and something in the chapter on Jesus' honesty really hit home.  Eldredge quoted M. Scott Peck ("The Road Less Traveled"), "Truth or reality is avoided when it is painful. …To have such discipline, we must be totally dedicated to the truth.  that is to say we must always hold truth, as best we can determine it, to be more vital to our self-interest, than our comfort.  Conversely, we must always consider our personal discomfort relatively unimportant and, indeed, even welcome it in the service of the search for truth."  Wow.  That is difficult to deal with, at least it seems so to me.
Far too often, I must confess, I find myself more dedicated to my own comfort, whether emotional or physical, than I am to seeing/accepting/obeying the truth.  It is hard to admit that, even to myself.  Do you find yourself in that place sometimes too, if you are really honest?  Truth can be uncomfortable, even painful, to face at times.  Our natural self, generally speaking, likes to be comfortable, although what one considers comfort can be relative. I certainly know myself to be a lover of comfort, and when faced with a word or call from God that pushes or pulls me to leave that comfort, of whatever kind, I find myself not wanting to listen, because I like being comfortable.  I don't like discomfort, not at all.  For much of my life, in one way or another, my comfort has been tenuous at best, and now I find myself asking, "Haven't I earned a little comfort?  Don't I deserve to be comfortable, for once, or now that I'm getting older?"  My more spiritually mature self knows that is nonsense, but never the less, that is often how I feel.  Maybe you do too.
If you do, trust me, you are not alone.   I have to ask myself, when I make myself face this false expectation,  have I then refused to even see some truths because to see and accept them would be too far out of my comfort zone?  Yes, although through time and experience my comfort zone has grown until some once uncomfortable truths are more palatable, are there yet others I can't yet even allow myself to see because they would be so uncomfortable?  Although I don't like to think so, I have to recognize that the answer is most likely yes.
I bet you guessed there is a prayer coming up here, and you'd be right.
OK Lord, now that I recognize that I have limited my own vision and understanding, forgive me for my narrow views of myself and my refusal to even see some of what You created me for because of my fear and avoidance of being "too" uncomfortable.  For saying "I'll accept this much discomfort, but no more."  Help me to truly and fully release my avoidance or denial of going outside or beyond comfort – both emotional and physical – if you call me to do so.  Help me to hold truth and obedience to Your will far more precious to me than mere comfort.  Help me to stop giving that concept mere lip service and really mean and live it.  I need help to do this, Lord, big time.  I am a coward and I love my comforts – both physical and emotional – and I know I will tend to drift back to what feels "safe" and secure and comfortable.  Transform my heart, mind, and spirit, by the working of your Spirit within me, to see the joys and rewards of being "uncomfortable" for You far more clearly and powerfully than I see the hardship or "discomfort".  Change my heart, Lord.  In Jesus' name, Amen.
Yours in Truth,
Kathy