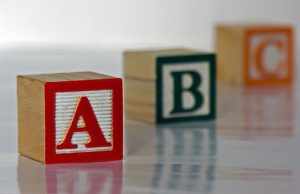 A few days ago, I woke up thinking about the alphabet – the ABC's. For some reason, I was pondering statements made up of words that started with each letter of the alphabet. I had part of it figured out by the time I got out of bed and finally I came up with the following:
Always Be Compassionate.
Do Everything For God.
Hope in Jesus.
Keep Loving
Minimize Negativity
Orchestrate Peace
Quit Resisting Spirit
Trust Unceasingly
Visualize Wholeness
X Your Zealotry
Now I know this is nothing earth shattering but I'm going to spend the next couple of posts going over what I think this mean for prayer and for life in general. If you can come up with something different (or better), I'd love to hear about it! I'll keep playing with this and maybe update it later. (And before you complain, at least two different dictionaries said that X was a word – meaning to cross out or stop; I don't make this up but I do use it to my advantage).
Come back and share with me your thoughts on this.
Be well,
Steve