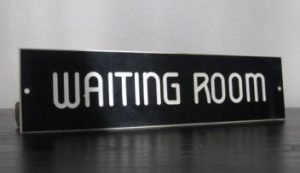 wait·ing
n. 1. The act of remaining inactive or stationary.
2. A period of time spent waiting.
Idiom:
in waiting In attendance, especially at a royal court.
"I love to wait", said no one ever. Waiting is not my forte. I'm an impatient person.Yet, it seems I end up doing a lot of waiting. Waiting is the hard part: waiting to find out if I have work, waiting on replies, waiting on God, just waiting. Why? I think this is all part of having faith in God and knowing and believing (see my last post).
Psalm 46:10 says, "Be still and know that I am God". But I want to be doing something and trying to do definition #1 is NOT what I want to be doing. I don't want to have to spend the time to do definition #2. But for me at least, if I don't wait, I rush in and try to do something I'm not supposed to do (at least not now) or do something I can't do (at least not now). I'm not foolish enough to pray for patience but patience is what I need.
In the act of remaining inactive or stationary, I need to find the grace to see the blessings of now. I need to find the strength and rest for the coming time of moving and action. I need to know that God is God and I am not. The rest of the verse in Psalm 46 says, "I will be exalted among the nations, I will be exalted in the earth." How can He be exalted if I don't stop and worship instead of hurry and work. I believe that's where the last part of the definition above comes in – we must be "in waiting" on the presence of God. He is our King and we must be waiting to hear His will and to know what He wants of us. That makes waiting easier for me. I really AM doing something; I'm in waiting for my Lord and King.
Be still and know that I am God…
      Be still and know that I am…
            Be still and know…
                 Be still…
Be well in waiting,
Steve