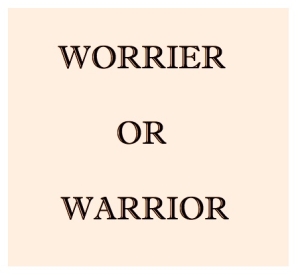 This is the third and last – for now – in my thoughts about perspective. See my first and second posts if you are interested.
I don't know anyone who doesn't worry from time to time. I do more than my fair share. But recently I read (again) Luke 21:34 (note the emphasized words):
"Be careful, or your hearts will be weighed down with carousing, drunkenness and the anxieties of life, and that day will close on you suddenly like a trap. (NIV)
The King James says the "cares of life". The Amplified Bible says "worldly worries and cares pertaining to [the business of] this life". Worry is lumped in with carousing and drunkenness as something to avoid as we would a trap!
Besides being something that can trap us, worry has another bad side – it's a sign of a lack of trust. Why should we worry if we trust in God – do we not even believe what the change in our pockets says about us? More than lack of trust is the issue of disbelief in one who professes to be a "believer". I believe this is the biggest part of the trap – it's the part that binds us and keeps us from being useful to the Kingdom of God.
There are some songs that would tell us to "don't worry, be happy" or "don't worry, every little thing will be all right" but I think we need more than just not to worry – we need to fight back against the worry and lack of trust. God is still in control. His promises are still valid – "Blessed are those whose help is the God of Jacob, whose hope is in the Lord their God." (Psalm 146:5 NIV). Remembering His faithfulness to Jacob and all the others who call Him "Our God" will give us plenty of reason to NOT worry and to realize that we are blessed!
Father, You are faithful and we find ourselves not trusting Your faithfulness. Help us to guard against worry as much as we guard against carousing or drunkenness! In the Name of Jesus, Amen!
Be well,
Steve