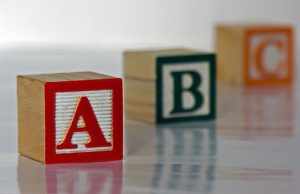 I decided to move my writing day to Friday instead of Wednesday so this is a bit later than usual. See last week's post to see the story behind my ABC's. I'm going to cover the first half this week and the last half next week.
Always Be Compassionate.
Great "rule" for life in general but in prayer I believe that it means to pray without judgment. Jesus was led by compassion for the people and I believe that compassion will guide our prayers to be more other-oriented than self-oriented.
Do Everything For God.

We spend too much time praying for what WE want (I know I do anyway) and not really listening or considering what God wants. If our life were truly directed in the way that we say we say it is, then everything we do is done for God – everything we do would be ministry and everything we do would be prayer.
Hope in Jesus.

I'm tempted to just say "no explanation needed" but I think that it does bear saying that without Jesus as our Mediator, Lord, and Savior, we have no hope.
Keep Loving.

Maybe this sounds redundant but I don't think that the point can be emphasized enough – we need to be loving in life and in prayer. If we keep loving God, we serve our brothers and sisters better. If we keep loving our brothers and sisters, we serve God better.
Minimize Negativity.
I've heard it said that for every positive statements we hear, we hear eleven negative ones. Not sure if that is true, but we do hear a lot of negative things day in and day out. Minimizing negativity does not mean ignoring the bad things of life but we don't need to add to the mix our own negative thoughts and feelings. Often we even pray negatively – Scripture says ask and we hedge our bets by waltzing around in our prayers so much to keep from being wrong that any answer that God could give us would be vague at best. There is nothing wrong with direct, positively and strongly stated prayers – look at the Psalms; all of them, not just 23, 100 and the "nice" ones.
Next week, I'll finish this line of thought. with the rest of the alphabet.
Father, help us to see the basics of life and prayer as You see them. Help us to live as You Son lived, to pray as He prayed, to love as He loved. For it is in His Name, I pray, Amen.

Be well,
Steve